Solar Farm Guiding Principles
The Government Energy White Paper (2020) states that "onshore wind and solar will be key building blocks of the future generation mix, along with offshore wind". In addition, the National Planning Policy Framework (NPPF) (2021) states that "The planning system should support the transition to a low carbon future in a changing climate, taking full account of flood risk and coastal change. It should help to: shape places in ways that contribute to radical reductions in greenhouse gas emissions, minimise vulnerability and improve resilience; … and support renewable and low carbon energy and associated infrastructure." These statements highlight the importance of considering renewable energy generation at the earliest stage in the planning process and the need to shift the energy mix to renewables, away from fossil fuels.
Solar farms are one of the most established renewable electricity technologies in the UK and the cheapest form of electricity generation. Solar farms can be built quickly and is now viable with limited subsidy and at little to no extra cost to the consumer. The government has committed to sustained growth in solar capacity to meet net zero emissions. As such solar is a key part of the government's strategy for low-cost decarbonisation of the energy sector. Solar Energy development can help meet targets for reducing carbon emissions, reduce reliance on fossil fuels and provide local energy security. Solar farms can also contribute to sustainable agriculture, provide benefits to local ecosystems and wildlife and support local employment opportunities. The principle of solar energy development is largely supported provided the environmental impacts are appropriately managed through the planning application process.
Most local authorities in Essex have declared a Climate Change Emergency and are preparing Climate Change Action Plans and/or Strategies and Supplementary Planning Documents to focus attention on reducing carbon and greenhouse gas emissions in their area and to plan for a more sustainable future. Essex County Council (ECC) has established the Essex Climate Action Commission (ECAC) in response to national requirements to reduce carbon emissions. The ECAC has recommended that 'Essex produces enough renewable energy within the county to meet its own needs by 2040', with the commission seeing a role in this for large scale solar production.
Essex is experiencing a significant number of planning applications for solar farms at a range of scales and is expected to continue to rise if Government targets for renewable energy are to be met. This guidance has been prepared in collaboration with Essex Local Planning Authorities to provide local guidance on preparing and submitting planning proposals for solar farms to inform proposals of a consistent set of minimum requirements of issues that need to be addressed. These `Guiding Principles' can be referred to by Local Authorities in the preparation of SPDs and other policy documents; referred to as a material consideration in the determination of planning applications and Nationally Significant Infrastructure Projects (NSIPs).
These principles can also be used by developers of solar farms within Essex to inform their plans and proposals. This guidance is in addition to, and should be read alongside, that provided in national and local policy guidance. The guidance will help to ensure the local area and communities are able to benefit as much as possible from solar farm development through high quality solar farm developments that maximise environmental and socioeconomic benefits, minimise local environmental impact and provide significant community benefits. In accordance with National Policy the principle of renewable energy infrastructure schemes, such as solar farms, is supported if their impacts are (or can be made) acceptable.
Typical components of a solar farm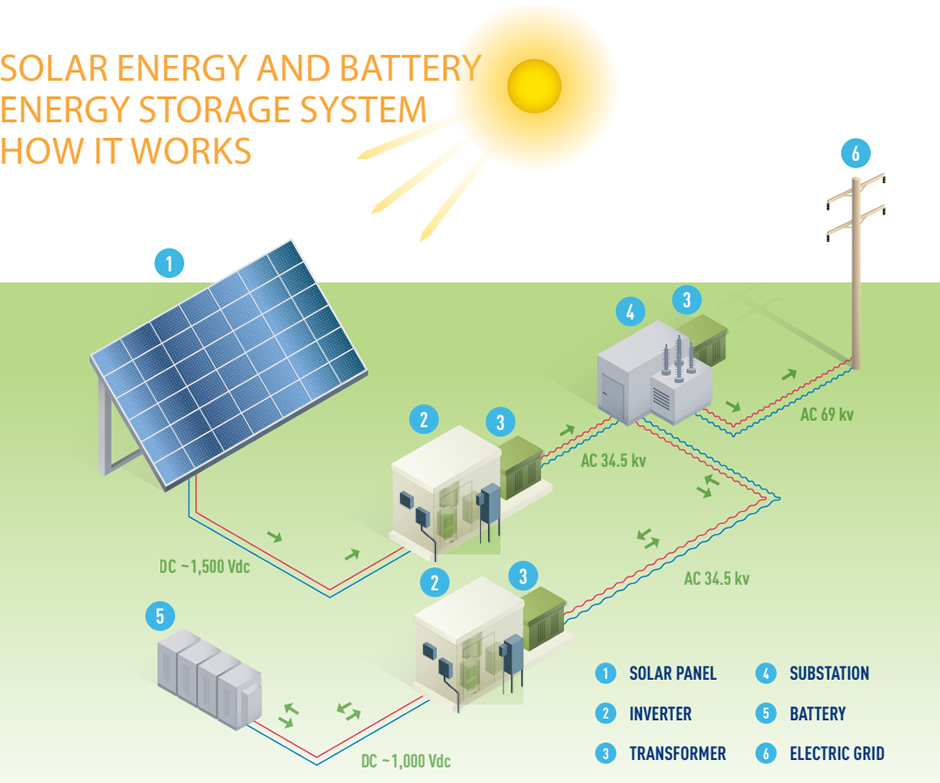 Source: Innergex Renewable Energy Inc. Hale Kuawehi Project Handout https://www.innergex.com/hawaii/wp-content/uploads/2020/10/Hale_Kuawehi-Handout.pdf
---
---